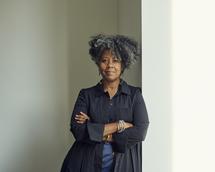 Conversation
Torkwase Dyson in Conversation with Lennart Wolff
Saturday, 30 April 2022
2 PM
(participation without surcharge)
Kunstmuseum Schloss Derneburg invites you to a special event in celebration of the museum's exhibition by American artist
Torkwase Dyson
. Dyson will be joined by Berlin based architect and curator Lennart Wolff, in a seated discussion which will draw on architectural theory and practice.
Set inside Torkwase Dyson's exhibition in the Rittersaal (or Knight's Hall) – historically a shared social space for gatherings – the conversation draws from central ideas and themes in Dyson's work such as Black Compositional Thought as well as Lennart Wolff's background in architecture. By dismantling disciplinary boundaries – eg. architecture, painting, performance – the conversation will explore the possibilities of a radically expanded visual and spatial practice that establishes networks of liberation (Dyson) against climate breakdown and (environmental) racism.
Torkwase Dyson was born in 1973 in Chicago, Illinois. She received a BA from Tugaloo College in Tougaloo, Mississippi, a BFA from Virginia Commonwealth University in Richmond, Virginia in 1999 and an MFA from the Yale School of Art in New Haven, Connecticut in 2003. Solo exhibitions of her work have been presented in numerous American museums, including the New Orleans Museum of Art, New Orleans, LA; the Arthur Ross Architecture Gallery at Columbia University GSAPP, New York; the Houghton Gallery at Cooper Union, New York; the Graham Foundation for Advanced Studies in the Fine Arts, Chicago, among others. Dyson currently lives and works in Beacon, New York.
Lennart Wolff is a Berlin-based architect and curator. He studied History and Critical Thinking at the Architectural Association School of Architecture London. Upcoming curatorial and architectural projects include the group exhibition "The State I Am in" at Capitain Petzel Berlin (curated with Elisa R. Linn), the interdisciplinary exhibition and workshop program "Building Information" at Architekturmuseum TU Berlin (curated with Kadambari Baxi, Elisa R. Linn, and Klaus Platzgummer), as well as a commission for the exhibition architecture of LaToya Ruby Frazier's "Flint, is Family, Act III" at Kunstverein Hamburg (curated by Nicholas Tammens).

Reserve admission by emailing
besucherservice@sdmuseum.de
Seats are limited. Entry to the event is included with the purchase of a regular museum ticket.
Please note that this event will be conducted in English.
Photo: Suzie Howell. Courtesy of Pace Gallery.