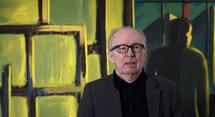 Tour with Helmut Middendorf
SOLD OUT
2 PM
The Kunstmuseum Schloss Derneburg invites you to a special guided tour on June 26, 2022, at 2 pm through the exhibition of Helmut Middendorf: Berlin SO 36 Revisited.
The artist himself will lead a tour of the exhibition, which includes two dozen paintings, works on paper, and films from the late 1970s and 1980s inspired by the music scene, nightlife, architecture, and streets of Berlin's Kreuzberg SO 36 district, where Middendorf lived and worked at the time.
Helmut Middendorf was born in 1953 in Dinklage, Germany. He studied painting from 1973 to 1979 at the Academy of Fine Arts, Berlin under Karl Horst Hödicke, where he subsequently taught experimental film in 1979. His work has been shown internationally in numerous institutional solo and group exhibitions.
Reserve limited admission by emailing besucherservice@sdmuseum.de.
Entry to the event is included with the purchase of a regular museum ticket.
Please note that the event will be conducted in German. Large bags and backpacks are not allowed in the exhibition space and can be checked at the on-site lockers free of charge. The tour moves through the exhibition rooms and seating is limited.