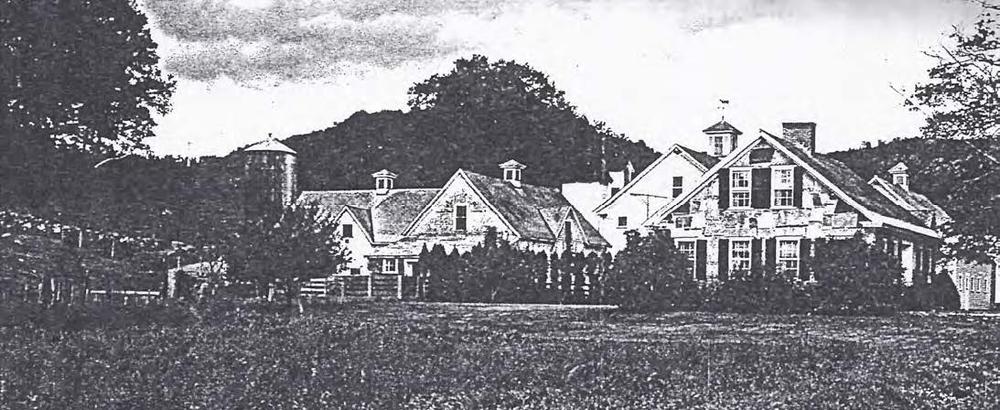 HISTORY OF LEXINGTON FARM
Lexington Farm was built by Elisha W. Watkins in the early 1800's, and was operated as a dairy farm until the 1980's. Today, the property consists of a snecked ashlar stone farmhouse, cow barn, horse barn and tractor barn, grouped together at the southern extremity of the village of Felchville (also known as Reading). The farmhouse and barns are situated next to a waterfall on a tributary of the Black River, and are surrounded by pastures, hayfields and extensive woodland.

Elisha W. Watkins was a prominent and influential farmer. The name Lexington most likely originated when Elisha's son, Frank W. Watkins, sold the property to Alonzo Everett Locke from Lexington, Massachusetts in 1902.
Snecked ashlar was a type of siding used in the 19th century to finish buildings constructed in fieldstone or brick. Snecked ashlar walls are made of mortared stone slabs arranged vertically on edge and tied together with smaller horizontal slabs called "snecks" (a Scottish word for snick, nick or latch). Although the origins of snecked ashlar construction in Vermont are not specifically known, oral tradition states that Scottish stonemasons working in Canada were responsible for introducing the technique to the area. While snecked ashlar architecture is rare in the United States, south-central Windsor County has over 50 such residences.

In 2009, the Hall Art Foundation began the process of converting Lexington Farm to museum-quality galleries. The former dairy farm's location and existing structures were ideally suited for this purpose. After approximately three years of restoration, renovation and refitting, Lexington Farm was transformed to approximately 6,000 sq. feet of exhibition space.

In the fall of 2012, the Hall Art Foundation opened its doors to the public – welcoming visitors to view its program of rotating, temporary exhibitions of contemporary art. Exhibitions are held seasonally, from May through November, and are open to the public by appointment.